Take a virtual hike with avatar bird Brownie to learn about the environmental changes that occurred in the Lehigh River Watershed in Pennsylvania during the past two centuries as a result of the zinc smelting plant operation at the Lehigh Gap.  Explore a series of 360° photospheres that contain interactive features to learn how a green mountainous ridge was transformed into a barren "moonscape" and how the area has been revitalized today. 
 
There are two distinct experiences: Story Mode and Exploration Mode.  In Story Mode, avatar bird Brownie guides you through the photospheres.  In each photosphere, there is a task checklist of media artifacts that you must interact with before moving on to the next photosphere.  In Exploration Mode, a trail map allows you to navigate through the trail pathways, and you can freely explore each photosphere and all the media assets. 
HOW TO PLAY:
Please note that when you enter a photosphere, you need to use your mouse to look right, left, up, and down.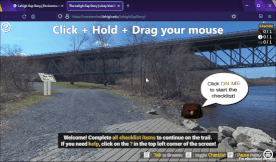 The minimum requirements:
2.5 GHz Intel Core i3 processor, 2 GB RAM, at least 2 GB of free hard drive space
Notes:
- This content is not currently supported on mobile devices.
- Depending on your network connection, the Lehigh Gap Story may take a minute or so to load on your computer.
- For best performance, we recommend using Mozilla Firefox web browser.
   Please, disable any pop-up window blocker
⚠️ ATTENTION Mac users:
- You need to use MOZILLA FIREFOX web browser to run a lag-free experience.

The Lehigh Gap Story was developed in partnership with the Lehigh Gap Nature Center.  This work is supported by Lehigh University Creative Inquiry.