STUDENTS WILL
a. Identify different types of natural and artificial objects around their school;
 
b. be introduced to the Esri Collector app for collecting data on a mobile device
and ArcGIS Online analysis tools to visualize and analyze their observations.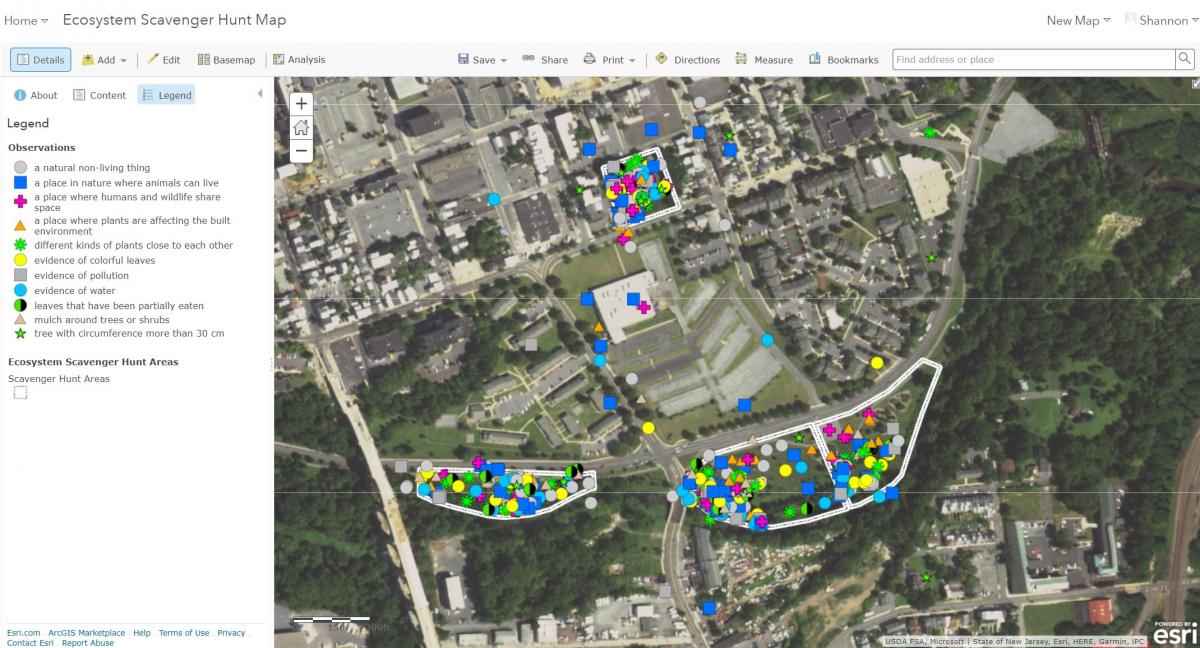 ---
---
NOTES:
A series of short videos on how to use the Collector App, and the video tutorial for the scavenger hunts are located below in the Video Guides section of this Web page.
This overview shows how to use the Web GIS for data analysis in the investigation. You may wish to show your students these videos as you introduce the learning activity.     
---
Important Notes:
Prior to implementing the investigation, be sure that you have set up an ARCGIS.com account for your classrooms.
 

We recommend that you read the Ecology Scavenger Hunt Teacher Guide prior to implementing this investigation. The Teacher Guide contains detailed content and pedagogical support materials that are not described on this Web page.

 

The instructional materials have been developed for use in a specific geographic location.  The MS Word versions can be modified for implementing the investigation in other locations.

 
Important Implentation Notes:
When setting your data collection area on the Esri Collector App, Make sure that the blue box encompasses the entire data collection area.  If a gathered data point is not in the data collection area, it will not be able to synch to the map.  
 

If your students experience a problem with the Esri Collector App, such as losing a location point while outside, have them exit out of the Collector App and restart that App.


 

It is important to submit data while standing still.  If students move while submitting, the data point will appear in a different location than where the data was collected.  Clicking the map image before submitting will move their data point to the location where the map is touched.


 

It is recommended that you explicitly model to your students how to use the ARCGIS.com tool features before they begin that part of the investigation. They should understand how to view and interpret the legend, view data from each point and in the table, and use the filter and measuring tools. Be sure to show students how to use the Filter tool so they can locate their own data that they collected.  They should also understand how to draw an area and line, assign a color to those drawings, take a screenshot on their computer, and submit their screenshot.


 
---
Materials Needed:

Mobile App
ArcGIS Collector App (iTunes / Google Play)

Investigation Handouts
Video Guides
ArcGIS